I've been developing a web site to show case my multimedia work, and in the process of reviewing all my projects, I've decided to premier "Chinese Breezes" here. I produced it last Fall and it's never been posted for public viewing.
Breezes showcases 53 photographs created during my first four trips to China ( 2004 through 2008 ), and reflects my candid street photographic style plus the compromises inherent in traveling while partially on someone else's agenda. I wrote about those compromises and upsides earlier on this
blog
.
It's 3' 30" long. A larger version can be viewed
here
.
The photographic technique I use to capture the relaxed and candid side of people from a culture other than my own is pretty basic. I show respect, smile, indicate an interest in them with body language ... the Golden Rule I guess.
My Chinese vocabulary is limited to a handful of badly mispronounced words. I can say "beer", "bottoms up", "spicy", "ice". Oh, and "ni hao" for "hello", the most important.
While in China's Inner Mongolia in 2008, I learned one word in Mongolian, sain baina uu, sorta pronounced "say ba nooh". We went 10 days without seeing a single other Western face, and often when approaching ethnic Mongolians were greeted with blank stares and open mouths. A smile plus "sain baina uu" immediately broke the ice.
And last year in the ethnic Tibetan regions of far Western Sichuan province, "tashi dele" for "hello", pronounced by me as "sa shea daleah" worked just as well.
I really mean it, instant smiles in return.
I like to imagine my self walking down Ocean Drive on South Beach when a tall, green alien approaches me with a camera around it's triple neck ... a friendly "hello" in English would work as a terrific ice breaker. Would I sign a model release with one of those "for any use throughout the universe" clauses, well ....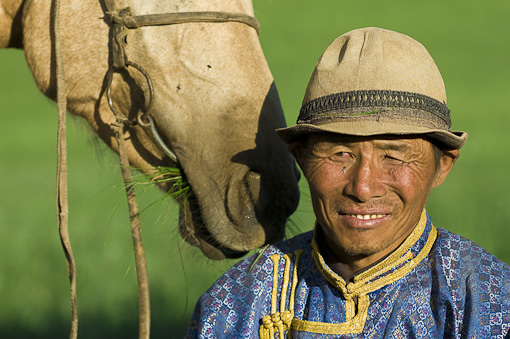 Unlike some photographers I don't automatically offer to show my candid subjects their image on the back of the camera, as I feel that breaks the flow of the moment. If they are unsure of my intentions after one shot, and I can read that on their face, then the LCD may help. Or if I've shot a lot of my new found friend, I have images in the can, then sharing may cement our relationship.
I guess stopping to show the LCD after one or two frames feels to much like the concentration breaking practice of Chimping, looking down at the screen after each and every shot. Nothing brands the scarlet C on an amateur faster.
What is Chimping, those non photographers may be asking ? The story goes that in the early days of digital, like all of 10 years ago, news photographers gathered at large events were amazed by the ability to actually see their photos instantly on the back of their cameras' tiny one-inch screens.
They would point and say, " Look, cool ! Ooh, ooh, ooh ooh ooh !", sounding like chimpanzees.
The sound track on "Chinese Breezes" is the first multimedia program for which I have not recorded the sound bed. The upbeat Chinese themed sound track is called "Scarf Dance", composed by Jonathan Geer of Pot Of Earth Publishing.
Here's a link to more
multimedia photography
from China.